Every sport needs a legend. Whether it be Pele for Football, Sachin Tendulkar for Cricket, Magic Johnson for Basketball, Lou Gehrig for Baseball, players need someone to look up to and spark that fire within them. Why should Motocross racing be any different? Read on to know more about the 5 legendary Motocross racers of all time.
5) James Stewart
One of the most highly touted rookies ever in the sport of professional Motocross racing, James Stewart was signed by the Kawasaki team when he only 15! In 2002, he raced his first Supercross when he turned 16 which is the AMA-required minimum age to race and was named Rookie of the Year. He introduced to the Motocross world, the Bubba scrub, a riding technique honoring his nickname. In 2004, he won both the AMA 125 East Supercross CHampionship and the AMA 125 Motocross National Championship. In 2006, he became the second rider in the history of Motocross racing to have a perfect motocross season (24 wins, 24 races).

4) Travis Pastrana
Ahead of his time, at 14 years old, Pastrana was already a freestyle motocross god and pointing the way toward a very bright Freestyle Motocross future. He won the 2000 AMA 125 National Motocross Championship at the age of 16. Since his roots are in MotoX, he is also credited for a lot of insane stunts. Also, he won the first ever FMX event at X Games when he was 15 years old. He has constantly appalled viewers with his demonic ferocity and pushing himself into doing what others wouldn't, be it in two wheels or four. He is a pioneer of sorts and, inventing new tricks and breaking records all around and being a huge contributor to the legacy of the X Games from its inception.

3) Stefan Everts
Considered on of the greatest rider ever, Stefan Everts, son of Harry Everts, one of the first champions of Motocross Racing, forayed into the world championship at the age of 17 and won the title two years later. He now has 10 championships under his belt. He is the only rider to have ever won three Grand Prix in three classes i.e 125, 250 and 500, all in the same day! His effortless style and intimidating demeanor made it almost impossible for the other riders to even touch him in the tracks. Currently, he is retired and is a race director for the KTM factory team. He has also trained current prodigies like Jeffrey Herlings and Ken Roczen.

2) Jeremy McGrath
McGrath is known to be one of, if not the most successful Motocross racers of all time. He was considered a God in the Motocross racing world in the '90s with 7 titles in 8 seasons until Ricky Carmichael bursted onto the scene. His history with BMX came in handy since he applied those skills in a way never seen before in his races. Other riders wouldn't dare attempt the jumps that McGrath would, which made him pretty much unbeatable in a race. His strategy was to ride hard for eight laps and then go easy for the next 12 since he'd already have a pretty  big lead over the others.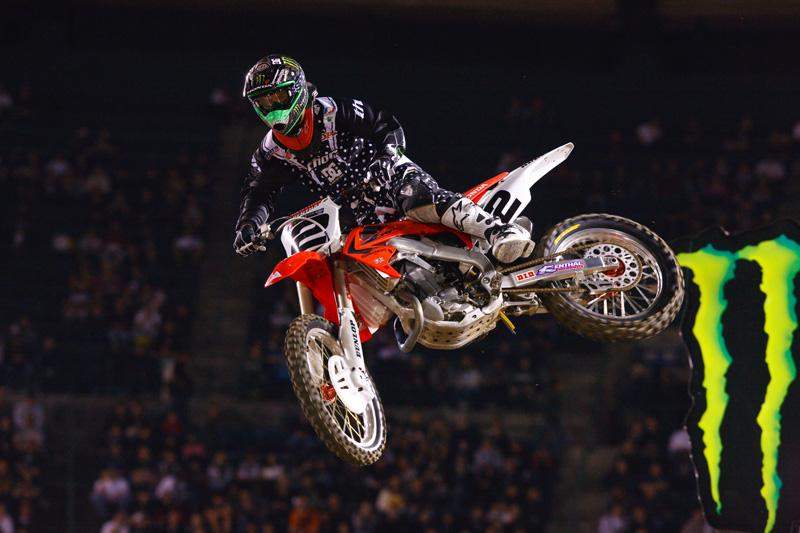 1) Ricky Carmichael
He is considered the GOAT, Greatest Of All Time, in the history of MX with 150 MX and SX wins and 16 championships. His career spanned 10 years and he defined an era. With no specific technique unlike other riders, he rode with no limits or recognizable style. He has never lost a title defense with his workhorse-like attitude, a splendidly maintained fitness regime and uncountable hours of practice. He was a force to be reckoned with and he also had two perfect season…..yes, two – which meant winning all 24 races for two years in a row. No wonder he's the GOAT.
We hope we've inspired you to keep revving that engine and practice those skills of your if you want to be counted amongst the above mentioned names.
Liked this article on Top 5 Motocross Legends and have your own input you would like to share? COMMENT BELOW and don't forget to SHARE THIS ARTICLE!