AMSOIL Arenacross
The wait is finally over for motor sport fans as Feld Entertainment announced that tickets for the 2017 AMSOIL Arenacross season are on sale at Arenacross.com. The most adrenaline rushing event in the world will begin it's 14 round journey to crown the new champion on January 7. Garving Faith has the hard task of defending his Ricky Carmichael Cup against other competitors like Chris Blose, Jacob Hayes, Jace Owens and Travis Sewell.
AMSOIL Arenacross promises to offer high action packed moto stunt display for the audience. This is not a sport for the faint hearted as all participants have high levels of competition spirits and a winning attitude. They will therefore ride to the highest heights in order to make their statement very clear. The excitement is not limited to the riders but also the audience who will be so close to the action that they will smell the dust and engines as well as feel the rumble and rush of wind as the bikes ride through the air. Music entertainment will come from one of the best DJs and that is DJ KO who is bound to keep everyone on their feet. Combine DJ KO's energetic amplified beats with the courageous AMSOIL Arenacross riders doing putting their best stunt forward. You get to experiance the most unforgettable motor event ever. Fans also get to hang out with the Monster Energy Girls, get upclose and personal with the riders as well as get to hold the Ricky Carmichael Cup.
Here's the 2017 Schedule For ArenaCross, Check It Out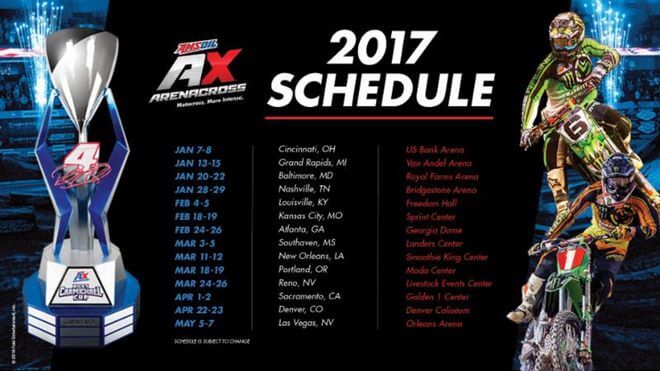 According to its schedule, history will be made as AMSOIL Arenacross will visit the city of Atlanta where they will join Monster Energy Supercross for a co-branded celebration called Motofest from February 24-27. It is expected that over 1000 riders will show up in Atlanta for this mega event. AMSOIL Arenacross promises to deliver its pledge to encourage and develop young talent who are the motorcross champions of tomorrow.