They might not match up to the bikes that are manufactured in the current time and age, but they have a lot of history. The bikes that have been listed below have seen riders win and lose championships and a LOT of injuries. This list could be endless but we'll be talking about only 4 of them and in no particular order of merit or performance.
1970 Husqvarna 400 Cross
The bikes that was forever engraved in history when Steve McQueen rode it  in the movie "On Any Sunday". The Husqvarna's outstanding horsepower and precise handling made it a extremely challenging for other riders to keep up with anyone who was riding this bike. The 400 Cross had brought recognition and success to many riders, specifically Bengt Aberg and others like Gunnar Nilsson and J.N. Roberts. In the early '70s the Husqvarna became a popular choice for Open-class MX and Off-road racers. It's status was elevated to a whole another level when Steve McQueen rode it in the movie. It is now considered a collector's item.
1975 Yamaha YZ250
It is very difficult to talk about this bike without mentioning the Honda Elsinore. This bike was Yamah's response to the success of its rival. It has a long-standing history with some of the greatest champions in MX history with names like Gary Jones, Bob Hannah, Mike Bell, Ricky Johnson and Jeremy McGrath associated with it. It is perhaps the longest running production  dirt bike/model in the world. It began in the year 1975 and Yamaha is still rolling out better and much more improved versions of the same every now and then.
1998 Yamaha YZ400F
This was a game-changing bike. It took 4-stroke dirt bikes to the nextlevel in the Motocross racing world. One of the most reliable bikes in its class at its time, it was also not as expensive as other 4-stroke bikes were. Until then, 4-stroke bikes were considered playtoys and were not used for professional racing. The 400F changed it all and gave a new perspective to people about such bikes and also, a new direction for bike manufacturers and racers to look towards. This bike probably single-handedly flipped the tables against 2-stroke bikes which are getting bosolete these days. While the 400F still had its faults, it's widely credited as one of the most important dirt bikes of the entire decade.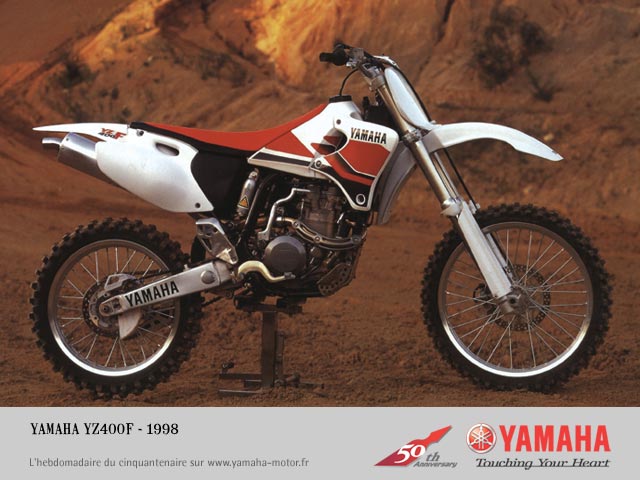 2002 Honda CRF450R
Only four years later did a bike come to compete with the YZ400F. The CRF450R had similar qualities to the 400F with its 4-stroke engine. Additionally, it was lighter, smaller and an easier ride. It eliminated many of the problems that the 400F had in areas like the engine, braking or starting issues. Until 2002, the 4-stroke models weren't mainstream and were virtually exclusive to Yamaha. The 450R brought about a universal change and manufacturers started making more and more 4-stroke inspired by the success of this bike. It was so successful that it is still being revised and next model will come out in 2017.
Which bike do you think made a dent in MX history?
Liked this article on Memorable Motocross Bikes Of the Past and have your own stuff that you would like to share? COMMENT BELOW and don't forget to SHARE THIS ARTICLE!